Vintage thrift store finds online:- In today's world, everything is changing so rapidly that sometimes we miss the new updates on what is happening around the world. Some of you are still looking for second-hand items but don't know the exact place where you can find the best second-hand items at the best prices with good quality. If yes, then you are in the right place because, in this article, we make the best vintage thrift stores where you can find the best products for you according to your needs.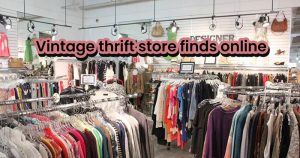 By purchasing these items, you are not only saving your money, but you are also saving our planet. According to reports, textile waste will increase by 60% from 2015-2030, with an additional 57 million tons of waste being generated annually, reaching an annual total of 148 million tons.
So, by using these second-hand items somehow, you are saving Mother Earth. With the help of new advanced technologies and the new internet era. There are many platforms available in the market where people are selling second-hand items. From these places, you can easily find the items you want for you at fair and reasonable prices.
So here we created the list of the top 10 Vintage Thrift online stores from where you can buy what you want. So here is the list of the top 10 online thrift stores.
Vintage thrift store finds online
E-Bay
Etsy
Swap
Poshmark
Depop
Vinted
Rebag
Nuuly Thrift
Thredup
Beyond Retro
E-bay
We think you have heard this name before yes, ebay is a very famous multinational company created by the American entrepreneur Pierre Omidyar in 1995. Ebay is the first internet website that created a platform where buyers and sellers can buy and sell things directly.
You will find good second-hand clothing on this website; also, you can find the best antique items around the world. They have many different products on their platform. As they say, we have everything from furniture to living hatching animals and other unique items.
E-bay has good customer service, but still, We suggest you check the shipping and return policies before placing any order because it all depends upon the seller who listed that product.
Etsy
Etsy is an e-commerce website started in 2005 and founded by the entrepreneur Rob Kalin and partners Chris Maguire and Haim Schoppik. it is a marketplace where you can buy handmade products and other wastes, but now they also list digital products on their website.
You can buy handmade items, products made from waste of recyclable items, and other vintage products at fair prices. If you want to search for any clothing item, They don't have any filters or options to do this.
The best part is buyers review on seller product listings with images, so before placing an order, you can easily see what you will get. Please check the return policies, etc, before placing an order because, like eBay, these policies depend upon the seller.
Swap
Dive into the world of sustainable fashion and unique finds with Vintage Thrift Swap, your ultimate destination for eco-conscious shopping. The swap platform redefines the way we approach fashion, offering a delightful blend of vintage treasures waiting to be discovered.
At Vintage Thrift Swap, we celebrate the art of swapping, allowing fashion enthusiasts to exchange their pre-loved gems and find new favorites. Explore a curated selection of vintage clothing, accessories, and home decor items, each piece carrying a rich history and unique charm. Embrace the thrill of the hunt while reducing your ecological footprint.
The swap platform not only promotes recycling and reusing but also encourages a sense of community among like-minded individuals. Join the Vintage Thrift Swap revolution today and experience the joy of sustainable vintage shopping like never before.
Poshmark
Embark on a journey through time and style with Vintage Thrift Poshmark, your go-to destination for exquisite vintage finds. Their curated selection showcases a blend of classic fashion, accessories, and home decor items, each telling a unique story from decades past.
At Vintage Thrift Poshmark, they redefine fashion by offering carefully curated pieces, ensuring authenticity and quality with every purchase. Dive into a treasure trove of timeless elegance, where you can explore a wide array of vintage dresses, accessories, and rare collectibles.
Whether you're a seasoned collector or a fashion enthusiast, our Poshmark store is the ultimate paradise for vintage aficionados. Elevate your style, embrace sustainability, and add a touch of vintage glamour to your wardrobe. Discover the allure of Vintage Thrift Poshmark and let your fashion journey begin.
Depop
Indulge your love for all things vintage at Vintage Thrift Depop, where fashion meets nostalgia most delightfully. Their curated collection of vintage treasures on Depop offers a unique blend of classic fashion, accessories, and home décor, each piece telling a story of its own.
Dive into a world where style transcends time, and every purchase is a journey through fashion history. Discover authentic, one-of-a-kind vintage pieces that elevate your style and make a sustainable statement. Embrace the charm of Vintage Thrift Depop and redefine your fashion experience with timeless elegance.
Vinted
Explore the enchanting world of vintage fashion on Vinted, where timeless style meets sustainable living.  Vinted store curates a diverse selection of vintage treasures, ranging from elegant dresses and accessories to unique home decor pieces.
With a commitment to authenticity and quality, their vintage collection showcases the beauty of past eras. Discover the joy of sustainable shopping as you browse through Vinted handpicked items, each with its own history and charm. Whether you're a vintage lover or a fashion enthusiast, Vinted offers a seamless platform to buy and sell pre-loved vintage gems. Embrace the allure of the past and redefine your style with the exquisite finds available on Vinted.
Rebag
Discover unparalleled luxury at Rebag, where your dream designer handbag becomes a reality. Rebag brings you a carefully curated selection of pre-owned, authentic luxury bags, ensuring you can elevate your style without breaking the bank.
Their collection features iconic brands like Chanel, Louis Vuitton, and Gucci, meticulously inspected for quality and authenticity. With Rebag, fashion meets affordability, allowing you to indulge in the world of high-end accessories guilt-free. Explore their exquisite range and redefine your fashion statement today.
Nuuly Thrift
Dive into a world of sustainable fashion with Nuuly Thrift, your ultimate destination for eco-conscious style. Nuuly Thrift offers a carefully curated selection of pre-loved fashion pieces, ensuring quality and authenticity with every purchase.
Their platform celebrates the joy of thrift shopping, allowing you to discover unique clothing items and accessories while reducing your environmental impact. Embrace the thrill of finding hidden treasures and make a statement with your wardrobe choices. Explore Nuuly Thrift today and redefine your fashion journey with sustainable, stylish choices.
Thredup
Transform your wardrobe sustainably with ThredUp, the ultimate online thrift store. Discover curated fashion finds for less, from trendy apparel to timeless accessories. ThredUp combines affordability with eco-consciousness, offering pre-loved gems that redefine your style without compromising your budget. Explore their collection, embrace sustainable fashion, and make a positive impact on the environment.
Beyond Retro
Upgrade your style with Beyond Retro, the epitome of vintage chic. Dive into a treasure trove of curated retro fashion, where each piece tells a unique story. From classic denim to funky accessories, Beyond Retro offers a nostalgic journey through fashion history. Embrace timeless elegance, sustainable choices, and unique finds. Redefine your style today.
Final Talk 
So, in the above article, we share with you the list of the top 10 Vintage thrift stores from where you can buy the items you want. Hope you find this article helpful. If your friend or family is looking for the best vintage thrift stores list, share this article with them.
FAQ
Can you buy thrift store items online?
Yes, you can buy thrift store items online. We share the list of the top 10 online thrift stores.
What do people buy most at thrift stores?
Most people buy clothes from thrift stores. Many thrift stores only sell clothes, but some others sell other vintage items, too.
Is thrifting better than shopping?
Yes, it is better than shopping because we are saving our environment with this, by reducing the extra waste.